Oficiální stream vyzradil postavu do Marvel's Avengers
A Crystal Dynamics aktualizovali sociální sítě.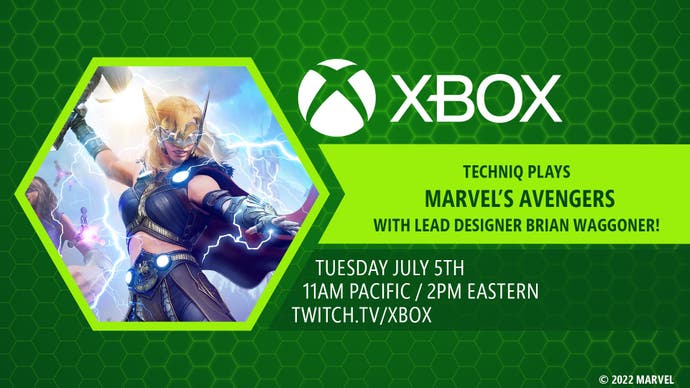 Za ten výraz v tváři, který měl zděšený vývojář hry Brian Waggoner, to stojí.
Byl to oficiální stream ke hře Marvel's Avengers, když streamer Techniq prohlásil, že příští přidanou hratelnou postavou bude She-Hulk.
Ta ovšem ještě stále není oficiálně ohlášena, pouze ji našli datamineři a vyrojily se spekulace, takže to asi bylo předčasné a úplně se to nepovedlo:
You may look at this clip and say, "See? That's exactly why we don't talk about what's far into the future, because plans change and it's embarrassing to have those conversations," or you can be excited to have found an avenue through which people WANT to talk about your game. pic.twitter.com/AuKHDrS4sW

— Miller Ross (@mmmmmmmmiller) July 5, 2022
Studio Crystal Dynamics jinak zrovna dnes aktualizovalo své logo na sociálních sítích, aby tam reflektovalo hrdiny svých titulů: ¨ K příležitosti nadcházejících 30. narozenin firmy tam figurují hrdinové z her Tomb Raider, Legacy of Kain a Gex.
Může to znamenat, že právě s těmito sériemi počítají do budoucna, již pod novým majitelem THQ Nordic namísto Square Enix?
📰 NEWS: Crystal Dynamics have updated their social media banners with a brand new unseen silhouette of Lara Croft.

It also features seemingly new renders of Gex and Raziel from Legacy of Kain. It's still unknown how Crystal plan on celebrating their anniversary. #TombRaider pic.twitter.com/8qnpRo9Hbq

— SmashLara • Tomb Raider News (@SmashLara) July 5, 2022